Revolution Blade
Pro-Elite Series
Our Revolution Pro-Elite Series knives are made from the highest quality zirconia #4 enriched with carbon for exceptional near diamond hardness. We further shape the blade by our craftsmen grinding to our Revolution blade shape which reduces the cutting resistance by 30% over comparable knives. Our special Revolution Blade technological advanced convex edge grinding process delivers exceptionally less surface resistance and a ruthlessly razor sharp edge. These are the professional chef series knives that are raved about in kitchens the world over!
Free Returns
During the first 30 days
10% Off
For return customers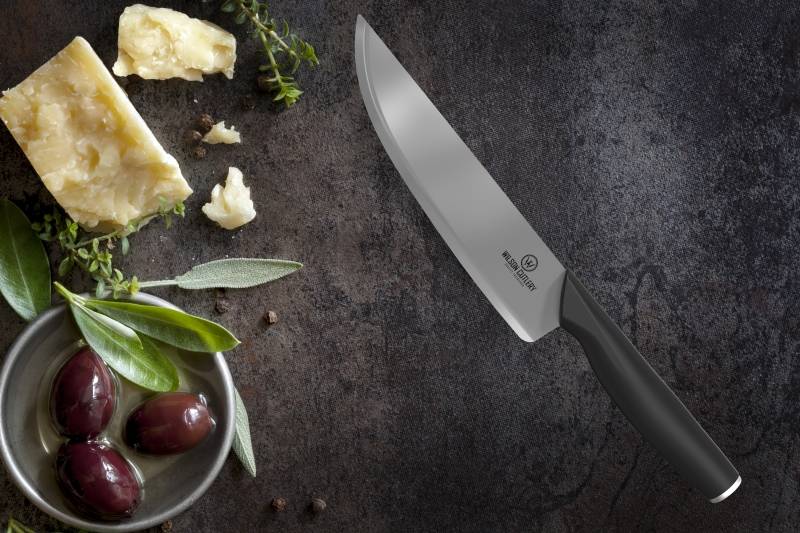 Revolution Blade 8" Chef Knife
Wilson ceramics are one of the only manufacturers in the world to use our purity of Zirconia #4. This means our particle fineness is 30% higher than that of number two zirconia. Furthermore, our cold isostatic pressing and high temperature sintering leave a 30% lower porosity, and better knife.​
Revolution Blade Pro-Elite Set
No other ceramic knife on the market can beat the level of strength in our knives. We have an unmatched production process which results in the finest quality ceramic blades known to man. The Wilson YSZ process produces knives that are chemically inert, making them completely impervious to almost all acids and alkali.​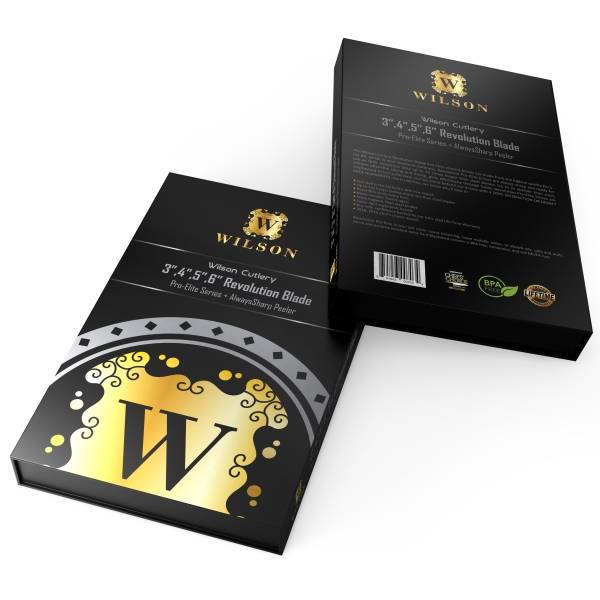 Revolution Pro-Elite Series Knives
"So Very sharp! Love these Knives!"
Bee
7 NOV 2017, 12:21
" Wow what a great set of knives. I was initially hesitant to buy a ceramic knife, now I don't know how I worked in the kitchen without them. Definitely an item t... "
David Cole
15 SEP 2017, 14:42
"Best Purchase I've made ever on amazon!"
Betty Rivera
15 JULY 2018, 14:42

What you get with each Wilson Ceramic Knife purchase?
Zirconium is the key material in our ceramic blades because it makes them significantly harder than any steel knives. The most important aspect of a blade is its edge and how sharp it is. Whereas stainless steel knives tend to lose some of their keenness pretty quickly, Wilson ceramic knives keep a razor sharp edge for up to 15 times longer!
The Wilson knife is significantly lighter than comparable steel knives. Because of its light weight, it gives it an advantage over steel knives. The light weight and advanced ergonomically designed handles makes repetitive cutting tasks a breeze. Put wrist fatigue in the past and with the minimal weight of these knives. You will make light work of tasks like slicing fruits, cheese, bread, or vegetables.
Steel blades have large pores that allow dirt, bacteria, and grime to get ingrained in the material. Wilson ceramic is practically impervious to all liquids. Imagine just a quick soap and water rinse off to clean your knife thoroughly, no more scrubbing! ​
Rust comes about when iron alloys corrode at the presence of water and oxygen. Because ceramic blades lack any metal materials, it stays free of rust forever. Never having to worry about rust ruining your favorite knife is a relief any knife lover would revel in. Just rinse and
leave to air dry!
If you're using steel knives to cut your food, some of the chemical properties tend to leave food with an odd metallic taste. Steel causes fruits to oxidize faster and turn brown than they naturally would. Wilson Ceramic knives contain no metal, leaving food with its true flavor and fruits staying their true color much longer without turning brown. Our Knives are also certified BPA Free! ​