Frequently Asked Questions?


"HOW DO I SHARPEN MY KNIFE?"
"WHAT WARRANTY DO I GET WITH THESE KNIVES?"​
Our Warranty information is located here. But just to be clear, we offer one of the best lifetime warranties in the business. ​​
"CAN I DAMAGE MY KNIFE?"​
Yes, if you use it to pry or wist it will break. If you drop it, it like any other knife has the chance of breaking the tip. The knife is designed for cutting motions only of non solid material. Be sure to avoid cutting bone as this can damage the blade as well. ​​
"CAN I USE A CERAMIC SHARPENING ROD ON MY CERAMIC KNIVES?"
No, do not use a ceramic sharpening rod on ceramic knives as this will cause damage. Ceramic sharpening rods are made for sharpening steel and other metal blades as it is harder than all other metals. ​
"WHAT ARE THESE KNIVES MADE OF?"
Our Ceramics are manufactured with Yttria Stabilized Zirconia. For more information on our knife making process please follow here. ​
​"CAN I PUT THESE KNIVES IN THE DISHWASHER?"
Certainly, you can put your Wilson Knives in the dishwasher with out issue. ​
Free Returns
First 30 Days
10% Off
For return customers
100% Satisfaction Guaranteed
---
100% Fast Free Shipping
Order today and get your item in two business days. Always Free super fast shipping Nationwide !
100% Made in the USA
Order and feel safe knowing your item was made and manufactured by Wilson Cutlery in the USA!
10% off Return Customers
We value your business as such we take an extra 10% off our already low prices on all future orders!
---
It's worth adding at least one ceramic knife to your collection. Why not add the best Ceramic Knife you can buy? You can begin enjoying the advantages today when you bring this collection into your kitchen. Everyone who values quality would enjoy what a great offer this is. Get yours today and give one as a gift.
Buy for the lasting durability

Even the best stainless-steel knife will lose its sharpness and need to be sharpened often. Wilson Elite Advanced Ceramics last half a decade or more before needing to be sharpened.
---
You never have to worry about a ceramic knife rusting. That is because Russ comes from iron alloy it's corroding from the presence of water and oxygen. As ceramics are made from zirconia there are no iron alloys to rust. They have no metals, so they never rust and can be left to dry naturally.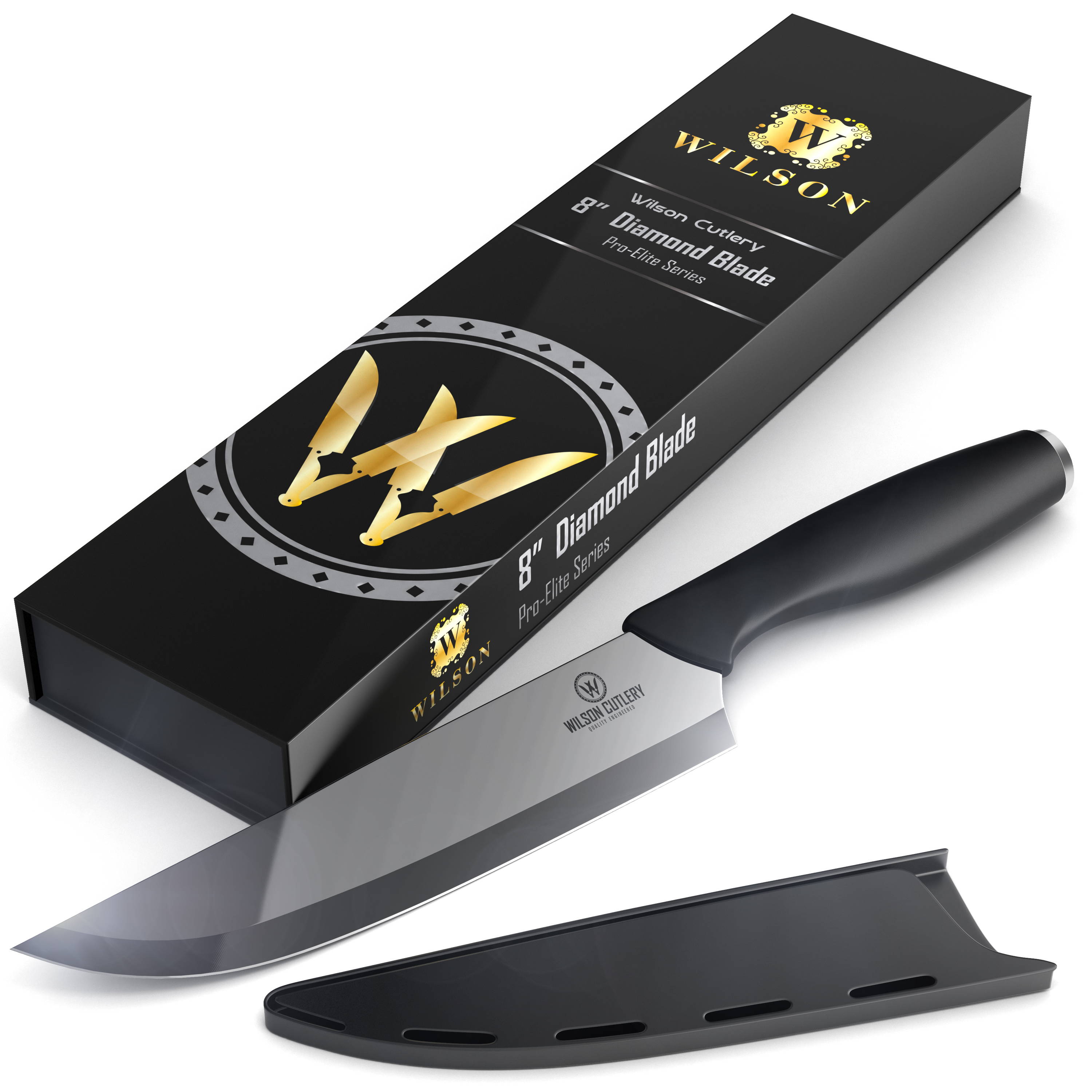 Buy for the great weight balance

Wilson ceramic knives are carefully balanced and properly weighted which makes them easily maneuvered. You can work for hours on end without hand or wrist fatigue as with other knives. Wilson knives come with a super ergonomically designed BPA-Free handles.
---
Our patented manufacturing process makes our knives nearly impervious. That make them resistant to acids and alkali much more so than metal blades. These blades will not react with your food or transfer flavors. After use a good clean wipe is all it takes to clean them.

When the world's best chefs prefer a world class ceramic knife in the kitchen, the reach for a Wilson Ceramic blade. We produce the world's best ceramic knife with strength measuring >9 on Mohs scale (diamond is 10). ​
Thinking of buying a ceramic knife?
Five Points to consider:

Zirconium is the key material in our ceramic blades because it makes them significantly harder than any steel knives. The most important aspect of a blade is its edge and how sharp it is. Whereas stainless steel knives tend to lose some of their keenness pretty quickly, Wilson ceramic knives keep a razor sharp edge for up to 15 times longer!
The Wilson knife is significantly lighter than comparable steel knives. Because of its light weight, it gives it an advantage over steel knives. The light weight and advanced ergonomically designed handles makes repetitive cutting tasks a breeze. Put wrist fatigue in the past and with the minimal weight of these knives. You will make light work of tasks like slicing fruits, cheese, bread, or vegetables.
Steel blades have large pores that allow dirt, bacteria, and grime to get ingrained in the material. Wilson ceramic is practically impervious to all liquids. Imagine just a quick soap and water rinse off to clean your knife thoroughly, no more scrubbing! ​
Rust comes about when iron alloys corrode at the presence of water and oxygen. Because ceramic blades lack any metal materials, it stays free of rust forever. Never having to worry about rust ruining your favorite knife is a relief any knife lover would revel in. Just rinse and
leave to air dry!
If you're using steel knives to cut your food, some of the chemical properties tend to leave food with an odd metallic taste. Steel causes fruits to oxidize faster and turn brown than they naturally would. Wilson Ceramic knives contain no metal, leaving food with its true flavor and fruits staying their true color much longer without turning brown. Our Knives are also certified BPA Free! ​